Ramesh Narayan Assumes Office as President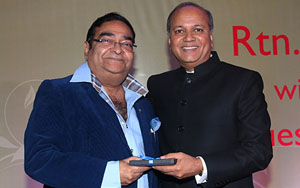 Looking back on his stint as president of Rotary Bombay, Dr. Mukesh Batra said, "I never imagined that we would raise a record amount of money to carry out a record number of projects that would touch and transform a record number of lives."
He was referring to the one billion US dollars that were raised for fulfilling the club's project-based endeavours: the Cotton Green Medical Centre, the Elder Care Home in Alibaug, e-education initiatives, scholarships for deserving students, safe drinking water schemes for two lakh slum dwellers, the restoration of the Asiatic Library, animal welfare programs, and club office refurbishments, to name a few.
Such a triumph could only be the result of hard work, which is why the office bearers stood up with pride when their names were called out by their leader, who offered each one of them his gratitude for their support "despite the storms like note bandi (demonetization), Brexit and even Donald Trump."
One among his cadre was Mr. Ramesh Narayan, who will now take up the reigns as the president for another chapter in the history of the Rotary Club of Bombay. As coincidence would have it, Dr. Mukesh Batra was due to celebrate his birthday at the midnight hour, which would officially be the day that Mr. Narayan presides over the Rotary club of Bombay.
However, there was a lot that happened in the interim: Well-known adman and the new president's long-time colleague, Srinivasan Swami said, "The Rotary Club of Bombay hasn't seen anything of this kind yet," referring to the newly-appointed president.
And to add a little more weight to that statement, Mr. Narayan pledged to continue the work of past presidents by consolidating all the "heroic work done in the past years," by continuing to collaborate with partners and "cooperating internally to optimise" everyone's efforts.
An example of the plausible changes that Mr. Narayan was aiming at could be seen at the evening meeting. Rotarians saw a surprise musical act by Raagatrippin, an avant-garde band. The evening was even hosted by young Pooja, one of the many students that the Rotary Club helps through the Bhavishya Yaan. Therefore, it was remarkable to see words of promise supported by examples of the kind of change that the Rotary Club hopes to see in the near future under Mr. Narayan's leadership.